Browse our Oral Histories – Page 3
---
Robert McClenahan
Bob reminisces about his childhood activities in East Falls, Mifflin School, and Falls Presbyterian Church
Jack McNicholas
Raised in East Falls and a postman here, Jack shares memories of sports, D-Day, local stores and factories, the Beneficial Club, golf, and more.
Mae Mohr
Mae gives memories of Falls Presbyterian Church, her involvement with Old Academy Players, and the Stetson Hat Factory.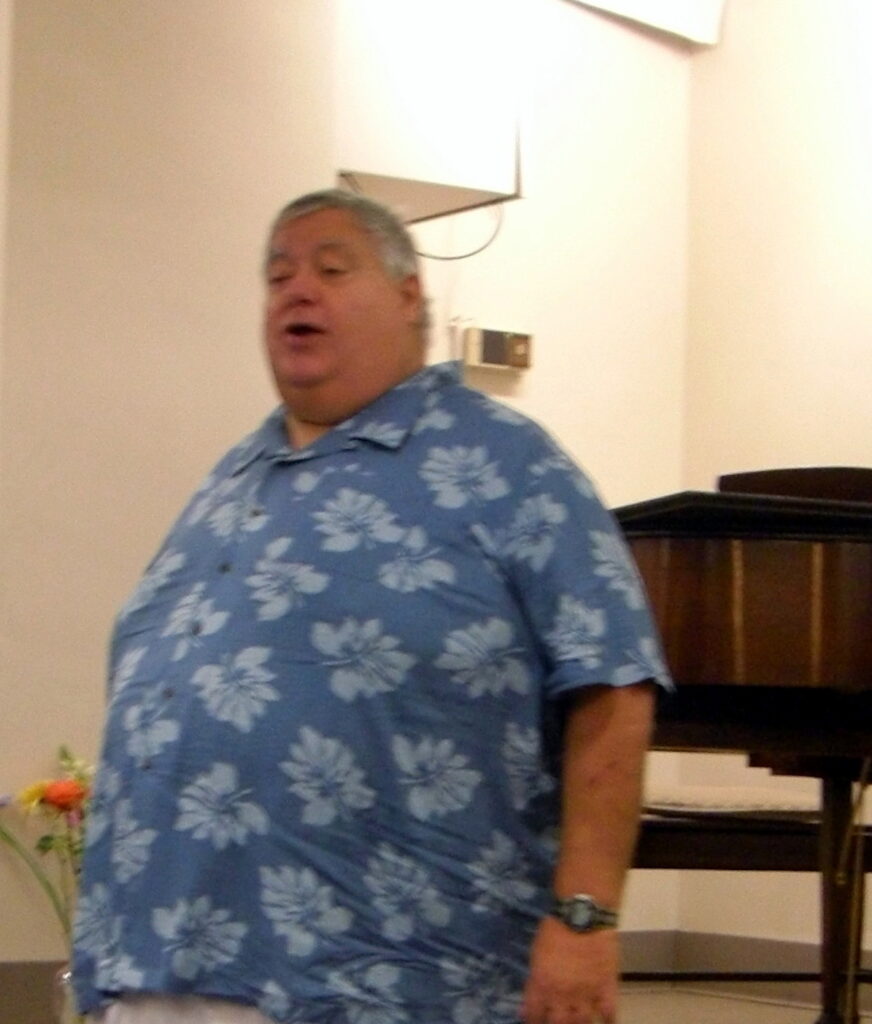 Joe Petrone
A lifelong Fallser, Joe entertains with lively anecdotes of wild childhood antics, descriptions of everything Falls, neighborhood changes, and his career with the Philadelphia Housing Authority. He knew the neighborhood intimately.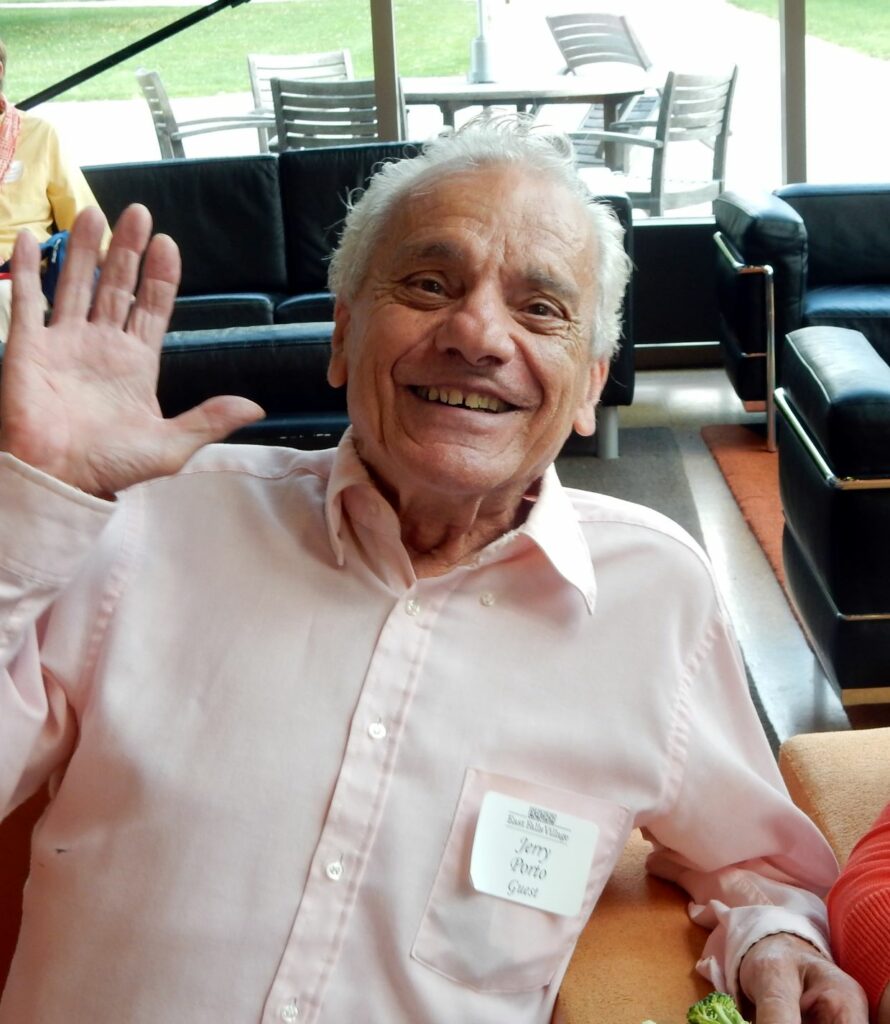 Gerald Porto
Jerry Porto, born on Calumet Street in East Falls, talks about his life in East Falls – St. Bridget, Ridge Avenue, making wine at home.
Harry Prime – Interview #1
Detailed, humorous memories by Big Band singer and Falls resident Harry Prime. Includes Kelly for Brickwork, Grace Kelly, John B. Kelly, Sr., holidays, Bathey, Clayton's Market, more.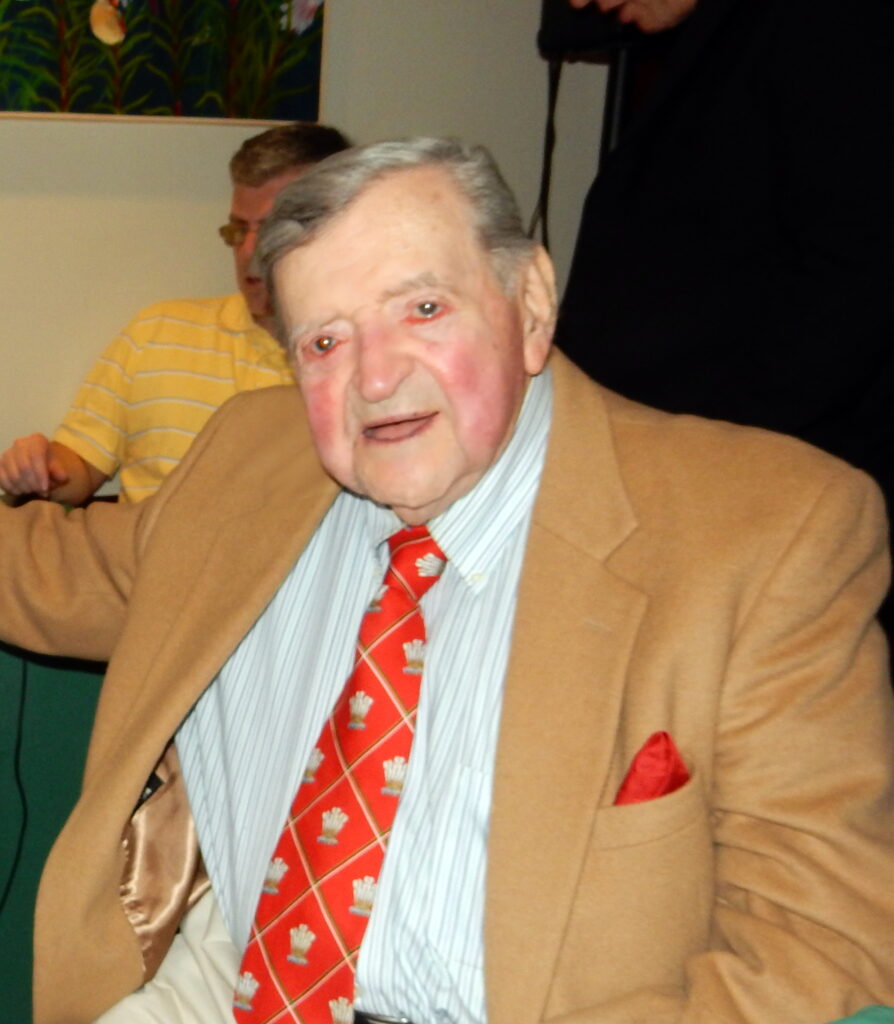 Harry Prime – Interview #2
After his failed attempt to be a baseball player, Harry Prime (95 in the photo) pursued a singing career. Read about his musical influences and career path – the Jimmy Dorsey Band, the Chesterfield Radio Show, the Palladium – and the impact on his person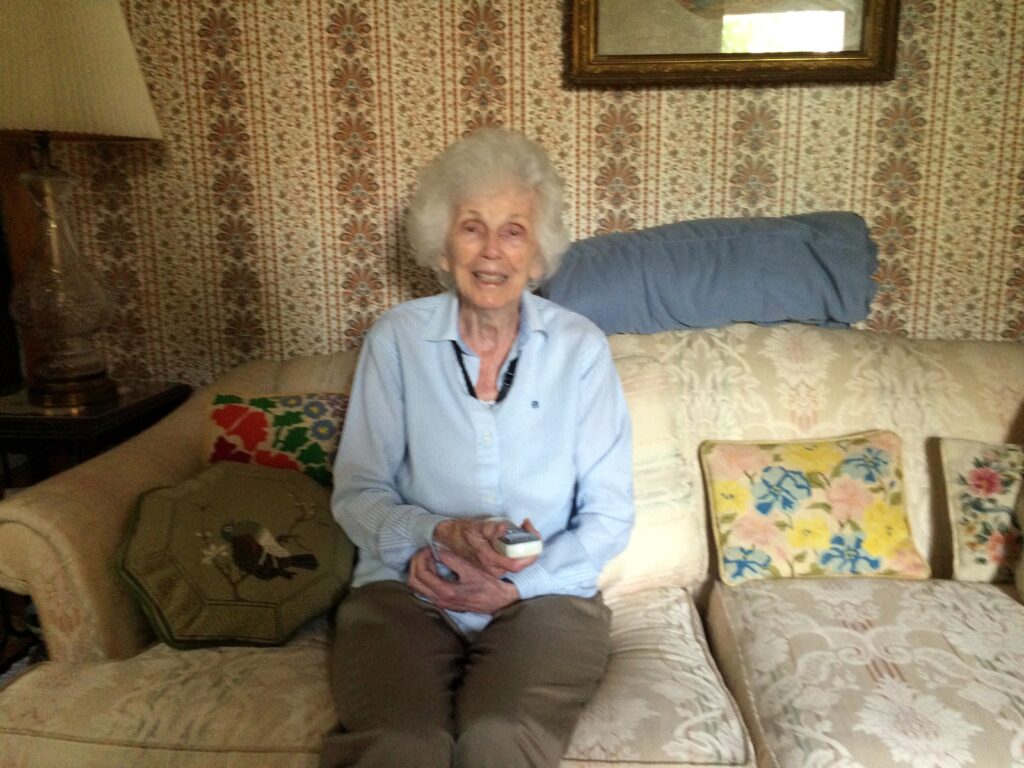 Alice Reiff
lice has lived on Ridge Avenue since 1948, witnessing changes in the shopping and housing (Schuylkill Falls). She also talks of her involvement with Inn Yard Park, Tree Tenders, and Arbor Day.
Catherine (Kitty) and Joseph Rocks
Childhood memories of this couple include Gustine Lake, St. Bridget Church, Ace Riding Academy, Ridge Avenue.
Jean Rowland
Jean shares her impressions of arriving in East Falls from Scotland as a child, her memories of St. Bridget School and Rowland's Market on Indian Queen Lane.
Shirley Shronk
Married to a descendant of one of East Falls' oldest families, the Shronks, Shirley talks about childhood fun, Breck and Mifflin Schools, 4th of July, etc
Lee Snyder, Ph.D.
Dr. Snyder, first Chairman of the Department of Humanities and Social Sciences at (what was then) Philadelphia College of Textiles and Science, talks about his experiences at the College and life in East Falls.
Joan Specter
This interview focuses on Joan Specter's years on City Council and her travels with husband Sen. Arlen Specter.
Philip Steinberg
Phil Steinberg, former president of the East Falls Community Council, talks about coming to East Falls in 1964, his role in the formation of the East Falls Historical Society, and his vision for the future of the community.
Emilio and Sandy Straface
Emilio and sister Sandy talk about half-ball, Frank's Pizza (in the family since 1955), and more.
Dick Webb
Dick Webb was interviewed at age 100. Though his memory and hearing loss affected the interview, Dick recollects Falls Presbyterian Church, working for Bucky Harris at Philadelphia College of Textiles, and working for James Buckley, President of Philco, who resided on Netherfield Road.
Mary Webster
Mary describes working at Dobson Mills, talks of the Dobson family, and shares memories of Forest School, doctors, and life in East Falls.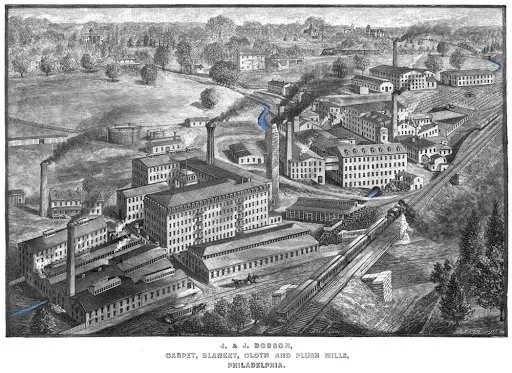 Rose Welsh Whitty
Born in East Falls, Rose gives a detailed account of working at
Dobson Mills (above). She also describes her house on Sunnyside, St. Bridget School, and local stores.
David West
Engrossing memories of growing up on Queen Lane and Penn Street: stickball, polio scare, writing a neighborhood newspaper, WWII, John B, Kelly, Sr.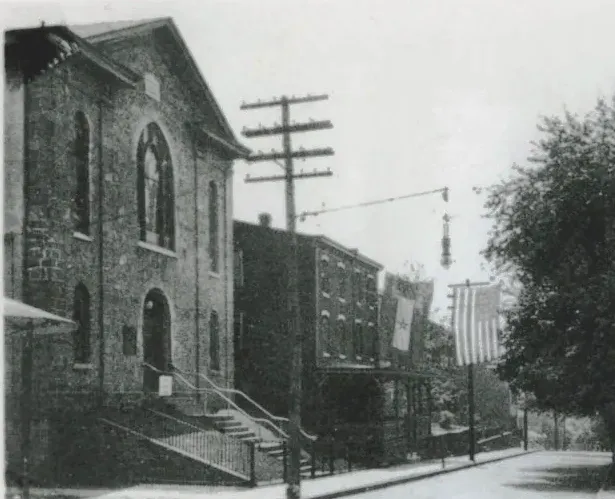 Edna Woolley
Edna talks about "Methodist Row" on Sunnyside, being a homemaker, and medical care – with details about Ms. Dunn, the local midwife. Photo: East Falls United Methodist Church.