---
Alden Park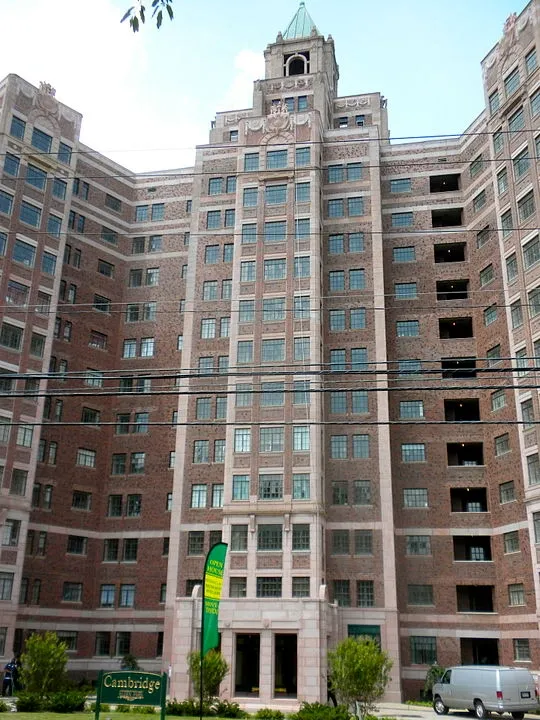 Wissahickon Avenue and School House Lane [Click for map]
National Register of Historic Places, Philadelphia Register of Historic Places
Built between 1925 and 1929, the Alden Park complex is one of the most distinguished and well-known structures in East Falls – though it is in the Germantown Zip Code 19144. One of the first apartment houses constructed as "towers in a park," the three buildings (Manor, Kenilworth, Cambridge) were designed by Edwyn Rourke.
Click here for Alden Park National Register Nomination (PDF)
See also: wikipedia.org/wiki/Alden_Park_Manor
---
Atwater Kent Factory
Wissahickon Avenue and Abbottsford Avenue [click here for map showing South Complex]
This site once housed the factory of the Atwater Kent Company, the largest producer of radios in the world during the 1920's. In addition to radios, the company produced electrical components for automobiles. Atwater Kent, raised and educated in New England, established his company in Philadelphia in 1902 and was a prolific inventor who was awarded 93 patents during his career.

The enormous South complex, below Abbotsford Avenue, was built from 1923 to 1925, and the North complex on the other side of the road was built in 1928 and 1929. At its peak, the complex churned out over 6000 radios per day, employing over 12,000 workers. Its best radios were among the finest available.

The Atwater Kent Company fell on hard times during the Depression and was dissolved in 1936.The U.S. Government purchased the North Complex in 1941, and eventually acquired the South Complex as well. The north building was later demolished to build the Roosevelt Expressway cut (US 1). The south building houses a variety of businesses and other activities. A related building, now seemingly on the grounds of the Water Department, may have been a power plant.
Click here for Atwater Kent National Historic Register Nomination (PDF)
See also: https://www.workshopoftheworld.com/nicetown/atwater.html
http://www.historic-structures.com/pa/philadelphia/atwater_kent.php
---
Castle Ringstetten
4414 Ridge Avenue (official city address, though it's access is 4347 Kelly Drive) [Click here for map]
Philadelphia Register of Historic Places
Designed by Frank Furness and dating from 1875-76, it continues to serve as the clubhouse of the Undine Barge Club, one of the city's rowing organizations
See also:/undine.com/…/ringstetten/
---
Dobson Back-to-Back Houses
3424-3416 W Westmoreland Street [click for Google Map]
Nominated for Philadelphia Register of Historic Places
Three stone structures built by textile manufacturer John Dobson in 1890-91 on a disconnected segment of W. Westmoreland Street in the East Falls/West Allegheny neighborhood, also known as "Paradise." John Dobson was founder and co-owner of what was considered the largest single textile manufacturing complex in Philadelphia (possibly in the nation), known for its variety of fine products, including blankets for the Union Army, and its nationally-known carpets. He became as well a major property owner in Philadelphia and one of the city's wealthiest men. The resources here nominated were built as "back-to-back" houses (though later modified) and display a distinctive appearance: "blocky" and solid, with varying application of a heavy stone cladding. These structures, built for mill workers, have visually helped define a little-known enclave within the city since 1890, and merit recognition.
Click here for Philadelphia Register of Historic Places Nomination
---
Dobson Mills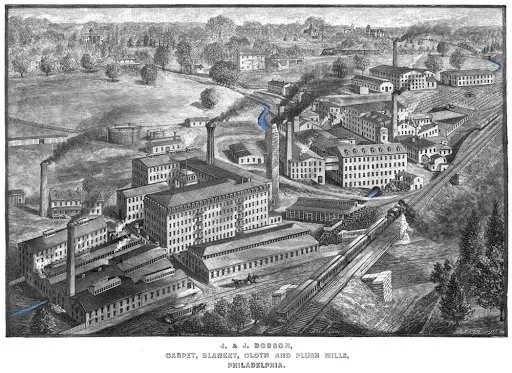 4055 Ridge Avenue [Click here for map]
National Register of Historic Places
Dating from the 1850s, the restored sections of the current apartment complex housed one of the city's largest wool woolen mills which made blankets, coats and especially carpets. Owners James and John Dobson (brothers) became major landowners in the Falls of Schuylkill.
See also Hexamer General Surveys: Vol. 1, plate 3 (former location at Wissahickon Creek) Volume 20, Plates 1890-1891; Other Free Library holdings.
Click here for National Register Nomination
---
The Falls Bridge
Philadelphia Register of Historic Places
The Falls Bridge was built in 1895 to be strong and heavy, because predecessors going back to the early nineteenth century repeatedly were blown or washed away. A proposed upper deck was never implemented: it was intended to connect the high grounds on both sides of the Schuylkill and to support a streetcar line. Although we think of the Bridge as connecting the Schuylkill River drives, a crossing at Falls of Schuylkill did more: it served as a conduit of goods and people from Philadelphia, Germantown, and the Falls to industry on the west bank, and well beyond to the west. The Bridge is 540 feet long in three spans and 40 feet wide. It is a modified Pratt "Through Truss" designed by city engineer George Webster, and built by Filbert, Porter and Company.
Click here for "The Falls Bridge: Structure and History," by Justin M. Spivey (video)
Click here for Historic American Engineering Survey
Click here for nomination to Philadelphia Register of Historic Places (PDF)
---
Falls of Schuylkill Baptist Church

3631 Indian Queen Lane [Click here for map]
The Falls of Schuylkill Baptist Church was formally constituted on Thursday, June 7, 1838 with 10 members. For the first 13 years the group met at the Old Academy. In 1851 the foundation for the church at 3631 Indian Queen Lane was laid. On December 5,1852, the entire completed building was formally dedicated for worship. The new part of the church facing Midvale Avenue was dedicated on December 12, 1929. The parsonage on Indian Queen Lane was loaned to the church by Doctor Horace Evans. About 1837 he had the third floor added. At his passing, the parsonage was willed to the church. The Reverend Mark R. Watkinson, the first regular appointed pastor of the church was responsible for the having the religious motto, "In God We Trust" placed on our currency. The original church was designed in a classical style with a Romanesque entrance and elaborate steeple. It is now much altered.
For more photos, see: Church Photos
---
Free Library of Philadelphia, Falls of Schuylkill Branch
3501 Midvale Avenue [Click here for map]
Philadelphia Register of Historic Places
One of the finest of Philadelphia's many "Carnegie Libraries," it dates from 1913. It was designed by the notable firm of Rankin, Kellogg & Crane in a style called variously Tudor Gothic or Collegiate Gothic.
See also: Friends of Falls Library – History
Construction Photos
Presentation – History and Architecture of Falls Library (YouTube)
Click here for Carnegie Libraries Nomination (PDF)
Click here for Historic American Buildings (HABS) report (PDF)
---
Gothic Revival Cottage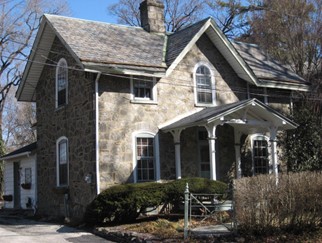 Coulter and Stokely Sts. [Click here for map]
Philadelphia Register of Historic Places
This small stone cottage formerly faced the now extinct Cherry Lane that ran parallel to School House Lane. By style and other information, it is from the period 1850 – 1860, and was originally very likely a gardener's or farmer's cottage.
Click here for Philadelphia Register of Historic Places Nomination (PDF)
---